Quite a few people have taken to twitter under hashtag #ThisIsACoup to air their view that Greece has been bullied and coerced into an unjust and undemocratic agreement by the other Eurozone members, with the finger being pointing directly at Germany.
#ThisIsNOTaCoup
At least part of the reason for the popularity of hashtag #ThisIsACoup is that prominent commentators such as Paul Krugman, the Nobel-winning economist, have helped to legitimise it and propel the hashtag #ThisIsACoup to the global audience. Krugman wrote in his New York Times blog: "The trending hashtag #ThisIsACoup is exactly right." This was part of his campaign to encourage Greece to exit the Euro.
 I have shown that hashtag #ThisIsACoup is exactly wrong and on two counts. Firstly, "this is a coup" literally implies a great compliment to the Eurozone countries (a coup), which Krugman and the rest presumably did not mean. What they actually meant is hashtag #ThisIsACoupD'état. But here too they have got it completely wrong because the bailout agreement on offer has none of the defining characteristics of a coup d'état either.
I am not arguing that the Euro summit agreement is all fine and well. It most certainly is not and makes unrealistic demands of Greece given the almost non-existing willingness or capacity to reform. I am simply saying that referring to it as a coup d'état (or indeed comparing the agreement terms to the Versailles Treaty, which some commentators have taken to doing) is emotional claptrap directed at one country rather than the 19 that signed the agreement, Greece included.
 #ButItCertainlyISGermanyBashing
In this post I would like address the content being posted on hashtag #ThisIsACoup. This particular bandwagon is not only ill-informed but it is deteriorating into a full-on Germany bashing movement.
Have a look at a selection of photos on offer to get the general gist of what is going on.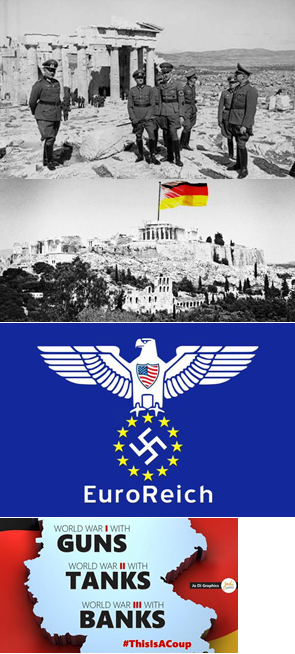 This is a sub-set of the kinds of images being posted. Some of them are funny but the vast majority are simply misleading or spiteful. The tweets are laced with references to Nazism, Fourth Reich and other stuffpointing towards Germany´s true intentions, namely of subjugating Europe through the back door.
Which planet have these people been living on since 1945?
Germans are entitled to feel offended by what is going on. Make no mistake: this is not restricted to the Twittersphere. A reading of comments posted in many national newspaper articles relating to the Eurozone crisis reveals a rising level of enmity towards Germany and its supposedly true intentions towards Europe via the mechanism of the Euro.
As a Briton living and working in Germany, with a German family, friends, family and colleagues, I find this sort of thing, often under the guise of "humour", unacceptable.
This is unfair. It is wrong. This is  Germany bashing.
If it has not yet been understood those in question, please reflect on the unequivocal fact that that vast majority of Germans would never have opted for the Euro if they had been given a choice and would gladly return to their beloved Deutschmark tomorrow if they could. The Greek tragicomedy is only adding fuel to this particular fire. But I guess whatever I say will never not cut much ice with some people.
Debt relief has already happened and will continue to happen
Now, having got that off my chest, I would like to turn to the rest of Paul Krugman´s quotation, since it appears to legitimise much of what is going on in hashtag #ThisIsACoup namely: "This goes beyond harsh into pure vindictiveness, complete destruction of national sovereignty, and no hope of relief."
I would like to start with the end bit: no hope of relief. It must be noted that Krugman wrote this before the finalisation of the bailout negotiations, so he was not aware of the fact that, for the first time publicly, "hope of relief" has been finessed into the agreement ("… including financing needs, debt sustainability and possible bridge financing."). We all know there is no such thing as money for nothing; and so do the Greeks. Incidentally, Krugman also fails to acknowledge that there has already been very significant debt reduction in the first two bailouts for Greece. There will almost certainly be further debt reductions in the third bailout.
As for the final part of the quotation, "This goes beyond harsh into pure vindictiveness," I suggest that the Nobel laureate actually looks are the terms of the bailout to justify his view. I do not see it, thought I do agree that many of the things in the Euro summit agreement will never be realised, just as they were barely realised in the first two bailouts and/or were reversed once Syriza assumed power.
National sovereignty is a 19-way street
The "complete destruction of national sovereignty" part is a red herring. In a representative democracy, the Greeks elect their government and their government makes decisions in relation to spending, taxation, etc. Parliament does not have to agree to anything it does not wish to do. In the meantime, the Greek Parliament has voted to accept the draft agreement. Two general elections and multiple Parliamentary votes later, the Greek government continues to ratify bailout conditionality. The debate about national sovereignty cannot be about Greece and Greece only. In the Eurozone there are another 18 nations whose taxes are increased and/or expenditure is potentially curtailed as a result of bailout after bailout to help Greece get its own house in order. There is a duty and responsibility towards the sovereignty of 19 nations, not only one.
If a country runs out of money through its own actions and inactions and needs to get it from another 18 countries with no end in sight, then then that country can expect reforms. But remember, these are the things which everyone agrees (including the Greeks themselves) it has systematically avoided doing for decades. Ask other states that have gone broke (but do not have the benefit of a Eurozone sugar daddy) whether they have had to implement painful reforms or not and for how long they have had to do it for in order to get back to normalcy.
Greece is under tremendous pressure to accept the bailout and some of the conditionality is questionable, such as connected with the privatisation fund. This reflects the lack of progress made in the other two bailouts as well as the breakdown in trust as a result of the negotiation tactics deployed in the last six months, rather than pure vindictiveness. At the end of the day, Tsipras and the Greek government must decide what, on balance makes most sense for their country. If the conditionality is vindictive and humiliating, there is an obvious option for them. If the future is truly brighter outside the Euro then it is the duty and responsibility of the Greek Parliament to go in the direction advocated by Krugman and others. But this is something which they have steadfastly refused to do so far to many economists´ dismay and disbelief.
As an aside, Paul Krugman is reported to have said that in pushing for a Greek exit he may have "overestimated the competence of the Greek government" and that it didn't even occur to him that Greece would make a stand against the rest of the Eurozone countries without having made a plan for an exit from the euro if things went wrong. Perhaps he will also come to agree that the latest bailout agreement may be better than the alternative after all.
He who pays the piper calls the tune
At the end of the day, the country which makes by far the biggest contribution to the bailouts and thus potentially incurs by far the greatest loss associated with the Greek bailouts is entitled to not just a vote but to a significant say in the matter. Failure to do so would be irresponsible in relation to its own tax payers and a failure in democracy vis-a-vis its own electorate.
Every country must look after its own national interests. Consider Britain steadfastly refusing to contribute a penny to the Euro bailouts but offering to show solidarity towards Greece in the form of "humanitarian and medical aid," should the country choose to exit the Euro and default. Britain is doing what it considers acceptable to its own electorate, as are all 19 Eurozone countries. What about Greece? Its approach is the epitome of following its own national interests. Why not Germany?
Get real: Greece´s sovereignty is not the only one in question; 19 countries are affected by the crisis. As the biggest contributor, Germany is entitled to a significant voice in the decision making-process (just as Italy, France, etc. and the Troika/Institutions are – but Britain is not). Some may not like it, but that is the reality.
Grow up: WWII ended 70 years ago; there comes a point when it is just plain silly to keep rolling out the tired old war clichés.
Stop the "over the top" (pun intended) Germany bashing.
rpinto_anglodeutsch 20/07/2015 Economics, European Union, Future of the EU, Grexit, Miscellaneous, Politics#ButItCertainlyISGermanyBashing, #ThisIsACoup, #ThisIsNOTaCoup, Angela Merkel, AngloDeutsch™ Blog, Austerity, bailout, bashing, debt relief, EU, EU28, Euro, Eurozone, Germany, Germany bashing, Greece, grexit, Moral hazard, national sovereignty, political issues, Syriza, Troika 0 Read more >