Britain has a huge challenge. In the fractious lead-up to the Brexit referendum on the 23rd of June 2016, almost everything imaginable is being use for or against the European Union (EU), but on this occasion I am not referring to the EU challenge. I am alluding to the title of this post, namely the productivity of the UK, as this has direct implications for economic growth, wages and ultimately living standards. Given its importance, it should be the No 1 issue in the debate about the future of the UK, except that it is barely touched upon. This is a mistake.
The Theory
Productivity refers to how efficiently inputs (i.e. capital and labour) are used to produce outputs (i.e. goods and services), the best measure of productivity being output per hour. In theory productivity matters a good deal: Britain's capacity to raise its standards of living over time depends almost entirely on its ability to increase its output per worker.
Productivity is also crucial in determining the long-term growth rates of the economy; stronger productivity growth leads directly to faster GDP growth. If this happens, tax revenues increase and budget deficits decrease. Governments have more to spend on public services such as health, housing, school places, GP / hospital capacity, infrastructure, etc. all of which are at the centre of the Brexit discussion. Naturally, the reverse also holds true: with lower productivity. And if Britain's productivity is lower than its competitors, such as other EU nations, its relative standard of living decreases over time.
Productivity matters a great deal. The Nobel Prize winning economist Paul Krugman is reported to have said that: "Productivity isn't everything, but it's nearly everything". What is the situation in Britain?
Productivity Puzzle
British labour productivity has traditionally grown at around 2% per year since the 1970s. That is not at all bad but the point is that since the global recession began in 2007, Britain´s productivity stagnated and continues to do so almost a decade later. Official reports stress that: "… such a prolonged period of essentially flat productivity is unprecedented in the post-war era". The Chart below illustrates the trend.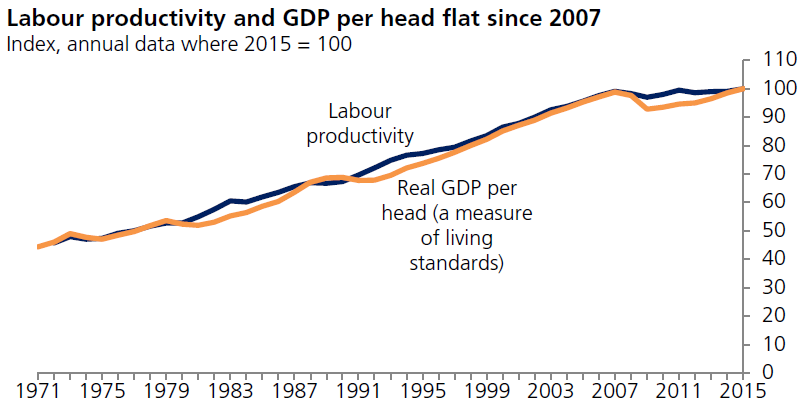 Although economic growth has resumed quite strongly since 2013, this is mainly the result of an increase in the total number of hours worked in the UK, rather than rising productivity. What this means is that Britons are working harder to produce the same amount of goods and services than was the case prior to 2007, and much harder than if productivity growth had continued at its 2% annual trend rate. The feeble productivity level leads directly to the stagnation in UK wages and living standards. This is already having significant effects in terms of the on-going package of austerity in Britain, which is being felt across the whole country and is, if anything intensifying. People´s economic pain is much more a consequence of low productivity than of the costs of the EU or the freedom of movement of people (EU immigration).
If Britain's productivity does not bounce up to the 2% trend, the implications for the economy, public finances and future living standards will be even more severe than is already the case.
International comparisons illustrate just why this is the No. 1 challenge.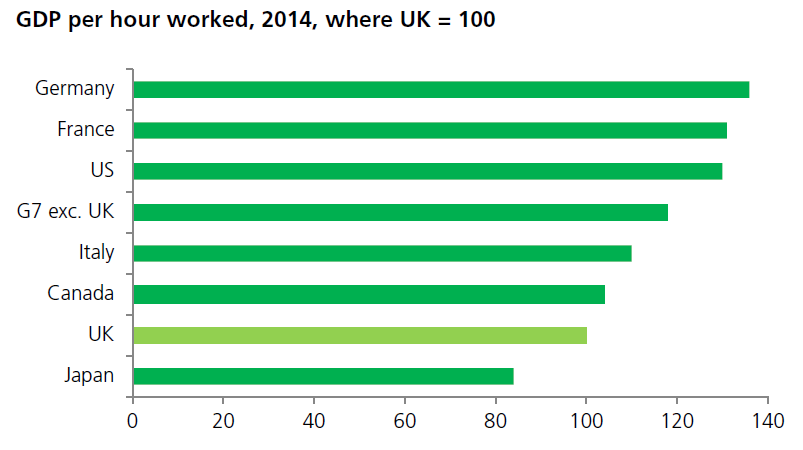 Based on real GDP per hour worked in 2014, the UK was ranked sixth among the Group of Seven (G7) countries, with Germany top and Japan bottom (the Chart below illustrates the issue). UK productivity was 18 percentage points below the average of the other G7 countries, the widest productivity gap since at least 1991. To illustrate the point further, it was 10 percentage points lower than Italy (which is hard for Britons to swallow), 30 percentage points lower than Italy and 36 percentage points lower than Germany. On the basis of output per worker, UK productivity was 19 percentage points below the average for the rest of the G7 in 2014.
The resumed economic growth and low unemployment rate combined with stagnant productivity has led people to talk of the UK's "productivity puzzle", as Britain loses ground to its major competitors.
Pumping-up Productivity: Brexit implications
Unlike Eurozone economies, Britain has its own currency and is fully in charge of its monetary policy. Blaming the EU and European immigrants for all its ills is far too easy and convenient. Instead, Britons should take a good, hard look at their own economy and what is required in order to increase productivity not just back to 2%, but ideally above this threshold.
What kinds of solutions are available to Britain in order for it to rise to the productivity challenge? The good news is that there is broad agreement about the main policy options. The bad news is that none of them are quick fixes and most of them will almost certainly not be improved by leaving the EU. The possible solutions include the following:
Raise the skills and qualifications of the labour force: the education system has to produce a better educated labour force and employers need to invest more in skills via training, apprenticeships, etc. These are known to increase labour productivity, however, the evidence is that this is not happening sufficiently. This may be part of the reason why Britain has been attracting ready-made, educated and trained migrants from the EU and non-EU countries (academia, R&D, industry, health service, financial sector, etc.). It is doubtful that the UK can immediately raise skills and qualifications to substitute what comes through the EU (the EU labour force is more highly educated in terms of average levels of human capital), thus productivity levels are unlikely to be enhanced by Brexit in the short to medium term. It takes time, investment and planning to systematically build-up the human capital base.
Increase investment in technology: the adoption of new technology is a key factor in improving productivity, as illustrated by the advent of computers and the internet in the recent past. A strong focus on generation of innovative products, services and processes would translate into high productivity levels. However, exiting the EU may either slow down this process or increase the investment cost. This is not just because of the potential loss of international collaborative innovation and R&D networks across European countries, which the EU funds. Brexit would also result in uncertainty about trade in the short-term and almost certainly less favourable trade agreements with the remaining EU trade block of 27 countries. This is likely to translate into increased import and export costs for Britain, including of equipment and technology. By opting out of the EU and its 50+ trade agreements, less favourable trade agreements will eventually be negotiated with 120+ countries. If investment in technology becomes more costly, firms may delay or avoid it, so it is unclear if the UK's productivity levels will be enhanced by Brexit.
Increase substitution of capital for labour: if labour becomes cheaper and more freely available, firms may have fewer incentives to invest and may choose to use labour intensive methods, rather than capital-intensive ones. This would result in lower levels of productivity, though jobs and incomes would be maintained, at least for a certain period of time. A surge in productivity would require a reverse in the trend of underinvestment in plant and machinery, as well as physical infrastructure. If Brexit means much less availability and/or more expensive skilled capital, this could spur greater levels of substitution of capital for labour, thus stimulating productivity. At the same time, this might have implications for employment.
Improve the morale of workers: during recessions or periods of industrial unrest and low worker morale, productivity tends to fall. By contrast, if workers are motivated and happy, productivity is likely to be higher. The morale of employees can be affected by numerous variables, including but not only wages, bonuses and other monetary incentives. It is also affected by issues such as state of industrial relations, sense of having a stake in the company and enjoyment of the job. These are specific to each nation and enterprise. But to the extent that morale is affected by other factors such as nature of the labour contracts, hours worked, leave of various sorts, etc. Brexit is unlikely to affect morale positively, since many of those factors are influenced by EU rules and regulations (see below) affecting all 28 countries.
Minimise rules and regulations: regulations should not impose excessive costs on enterprises and a balance has to be struck between say being able to get rid of poor or disruptive employees and having lax labour market regulations which exploit employees and results in high turnover and demotivation. EU regulations affect health and safety standards, discrimination at work, hours worked, paternity/maternity periods, minimum breaks, minimum paid holiday periods, etc. Brexit might well be good for British employers if regulations are scrapped and labour market flexibility is increased, but would almost certainly come at the expense of employees. Many other regulations are the solely the purview of the British government. Britain has already spawned zero hour contracts which maximise employer flexibility over almost a million employees. It widely acknowledged that Britain already has one of the most deregulated business environments around – some have argued that there is excessive deregulation, for example in the financial sector. Further deregulation would be possible upon Brexit, but it is questionable whether this would necessarily be desirable. It might undermine labour gains, for example, if rules and regulations concerning discrimination, maximum work hours, health and safety, etc. are undermined. These would reduce job security, employer costs and possibly spur productivity, but much would come at the expense of employees.
Maximise capacity utilisation: during economic booms, firms tend to squeeze more output out of existing capacity by encouraging people to work overtime, thus increasing labour productivity. In recessions, they may hold on to workers, rather than releasing them even if they are working below capacity, resulting in labour productivity falls. There is some evidence of "labour hoarding" (firms cutting output but keeping labour in reserve for the recovery), which is part of the reason for the productivity puzzle previously discussed. It seems unlikely that leaving the EU will increase capacity utilisation. Britain´s trade balance is already poor, it exports 44% of its goods and services to the EU and Brexit would mean negotiating new, less favourable terms with the other 27 countries of the EU and 120+ countries that the EU has trade agreements with. Rather than maximising capacity utilisation, it is likely that the reverse will happen upon Brexit (less favourable trade agreements, more risk, higher costs, etc.), with negative implications for employment, wages and tax revenue.
The above does not represent a complete list of possible solutions to the British productivity puzzle. Other factors could be considered, such as seeking to rebalance the economy away from services (about 75% of GDP) towards manufacturing (about 10% of GDP).
In 2015, the Government published its productivity plan (Fixing the foundations: Creating a more prosperous nation), covering issues such as improve transport and digital infrastructure, increase investment, enhance workforce skills, build more houses, move people off welfare and into work, encourage exports, rebalance economy away from London, etc. The 15 point plan is illustrated in the Chart below.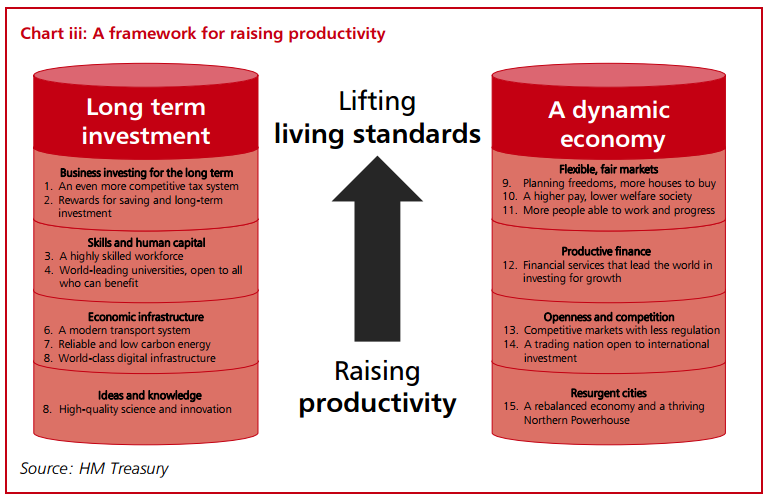 The productivity plan seems worthwhile implementing but none of it is a quick fix to Britain´s fundamental problem and, on balance, Brexit would not unleash an immediate gain in productivity.
To conclude, the cause of austerity, low productivity and stagnating wages in the UK are first and foremost to do with the UK, not the EU or Europe more generally. The number one priority for the country is to raise the productivity levels, regardless of whether Britain remains in the EU or not. If this happens, the wages, the public expenditure and the standards of living take care of themselves. But it is hard to see just how the UK's productivity puzzle could be eased by Brexit.
© Ricardo Pinto, 2016, AngloDeutsch™ Blog, www.AngloDeutsch.EU
-- Download Britain's Productivity Puzzle and Brexit as PDF --